Class of 2021
Graduate Profiles
Graduate Profile:
Saeed Bigdeli DDS '21
Ostrow graduate Saeed Bigdeli reflects on his time at USC before heading off to a general practice residency in New York City.
When did you first know that dentistry was the field for you?
In college, I explored all my options to find a life-long career that I truly enjoy. I changed my major four times while working full-time in several industries over the course of three years. During this time, I learned a lot about myself, my interests and my motivations. After shadowing a few dentists, I started working as an assistant volunteer at a local free dental community clinic, where I fell in love with the field of dentistry.
You've participated in research at the Center for Craniofacial Molecular Biology. What is it about research that interests you?
I believe that research is important for any field to adapt and improve. The field of dentistry has much room for growth, particularly in the technology and materials that we use. It is challenging to change the status quo, but we must strive to continually improve the care we deliver to our patients. 
What's next for you after dental school?
I will be doing a one-year general practice residency at BronxCare Hospital in New York, where I will gain further knowledge and experience in the advanced practice of general dentistry.
What would you say was the biggest challenges you've had to face to get where you are today?
At the age of 14, I was forced to leave my country. I had to leave my family behind, live in a foreign country and learn a new language on my own. I became independent at an early age, learning to do everything for myself without a stable support system. Although it was not easy, I am thankful for all my experiences because I wouldn't be where I am today without them.
What's your best dental school memory?
My best dental school memory is meeting my classmates in the first few weeks of school. It was interesting to see how everyone had such unique paths that led us to the same starting point.
What dental school experience have made the biggest impact on you in terms of your future professional life?
Dental school has taught me to be flexible. Our plans often go awry, challenging us to adapt on the fly and keep moving forward. For example, one may start the day planning to do a simple filling, but end the day having done a complicated, time-consuming root canal procedure.
You worked with AYUDA and the USC Mobile Clinic. What made you want to participate with these endeavors?
Providing service to disadvantaged people has always been a passion of mine. Dental care is expensive and can be scarce for patients from lower socioeconomic backgrounds. Through AYUDA and Mobile Clinic, I was able to bring much-needed dental care to the underserved. I plan to continue serving these patients in my future dental career.
What has pursuing your degree in the midst of a global pandemic taught you about yourself?
It has shown me that I was taking for granted many small aspects of my life. I now live with a renewed appreciation for all the things I love and enjoy.
Who at USC has made the biggest impact on you, and how?
Dr. Kim Austin. She is knowledgeable, efficient and cares deeply about her students. She does her absolute best to understand us and help in any way she can.
In what ways would you like to continue giving back to the community once you're finished with dental school?
I had the most rewarding experience at my Los Angeles County hospital externship where I was able to provide care to children in foster care. I would like to continue working with foster children. Having once been in their shoes, I believe it is my calling to help those children who don't have a stable family or support system.
Posted 5/14/2021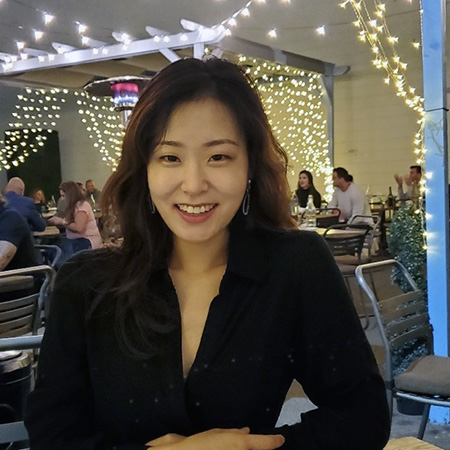 Graduate Profile: Stacy Kim DH '21

Ostrow dental hygiene graduate Stacy Kim reflects on her time at Ostrow and shares the story of a thoughtful parting gift from a faculty member that will always keep her on the right path.

When did you first know that dental hygiene was an area in which you wanted to work?
My interest in dental hygiene stems from my the tragic death of my grandfather, who passed away from a heart attack while playing golf. Some studies have suggested that oral bacteria is often linked to chronic diseases, and I learned that good oral hygiene not only prevents tooth decay and gum disease but also prevents other health issues, such as cardiovascular disease, diabetes and low birth weight. Since heart disease is correlated with heart attacks, I thought maybe my grandfather could have avoided the incident by simply maintaining his oral health.
Can you describe your path to USC?
My journey to USC started after graduating from high school in Guam. I left my parents' nest and flew to California to continue my education. Living on my own was initially scary. Even though my parents supported me financially, I had to be independent. I was able to find an affordable apartment near my college, resources around campus and a generous dental clinic where I shadowed. Adapting to the new environment has made my transition into adulthood successful. After completing all the prerequisites at Pasadena City College, I transferred to USC.
What does it mean to you and your family to have you finishing your bachelor's degree?
It means a lot to my family as I bring the honor by being the first to finish a bachelor's degree. In times when I was overwhelmed from school, my parents recalled our family's sentiment: Do your best in any given task (맡음바 최선을 다하자). I am proud to say that I kept my family's motto by graduating with a bachelor's degree in dental hygiene from USC.
In what ways would you say has the USC dental hygiene program prepared you for the real world?
I learned to treat the patient as a whole with the elite education I received at USC dental hygiene program. I am grateful to the program for possessing remarkable faculty members to teach superior education. They haven't just taught me about dental hygiene but opened my eyes to a whole new world with valuable life lessons. They are the real game-changer for preparing me for the real world.
What's next for you after dental hygiene school?
I'll be teaching the perio module to second-year dental students over the summer. Once I become board certified dental hygienist and complete two years of working experience, I'm planning to be certified as a Registered Dental Hygienist in Alternative Practice. With this credential, I will be able to help elderly people who are incapable of going to a clinic for oral hygiene treatment. Later on in my career, I'm going to acquire a Master's Degree in Public Health. Eventually, I want to reach out to the community in which I live and educate people about the importance of oral hygiene by visiting elementary and middle schools, community centers, homes for the elderly, and clinics.
What have been some of the most cherished memories you've had from USC?
My best April Fool's Day prank in five years was when my professor, Michaela Nguyen, fooled me and some of my classmates that we have class on Zoom at 8 a.m. When I logged in, she was holding up her iPad with a note saying "Happy April Fools!'' and she offered one extra credit to those who showed up in time!
Also, I will forever cherish a unique gift that my professor, Lupe Arevalo, gave to each one of my classmates with thoughtful symbolism. I received a necklace with a compass charm with a message — Guidance to a right direction when you get lost, and in times when you get lost, remember that I, Professor Arevalo, will always be there to direct you to the correct path. Fight on!
Posted on 5/13/2021
A Family Affair
As a child, Danilo Diangkinay dreaded spending time at his family's dental practice. But, after some soul searching, he realized there's no other profession he'd rather have.
BY JOHN HOBBS MA '14
EVEN THOUGH DENTISTRY IS THE FAMILY BUSINESS, Danilo Diangkinay ASPID '21 wasn't sold on the idea of following in his parents' footsteps.
He watched as his parents, who run two Southern California dental practices, worked incredibly long hours every day of the week to make their business a success — sometimes at his expense.
"My parents would always say, 'We're going to the park' or 'We're going to the arcade, but first we have to go in to the dental office,'" Diangkinay remembers. "Whenever we would do that, my younger sister Michelle and I would be in the office almost the whole day, and we'd never go to where they said, so it was always a place that I didn't want to be because I just wanted to play."
While he now recognizes the sacrifices his mother, Dr. Celia Octoman, and his father, Danilo Diangkinay Sr., were making to ensure he and his siblings lived a better life than they had before emigrating from the Philippines, it took time for the Southern California native not to associate dentistry with hard work and, consequently, a thief of quality time with his parents.
A Move to the Philippines
Diangkinay began his undergraduate studies at the University of California-Riverside, pursuing a bachelor's degree in chemistry. After three years, Diangkinay, then 21, felt a lack of direction and began to re-consider his dislike of the family business.
"I thought, 'My parents have a practice here, and I'm familiar with the work.'" Diangkinay says. "So, I went to the Philippines, where I knew I could get into dental school. My parents thought it was a good idea."
Diangkinay moved in with his older sister Donna and her family, and pursued his DMD at Centro Escolar University, Manila.
It was during this time at dental school he began to understand his parents' attraction to dentistry.
"I had a patient who needed a complete denture, and he hadn't had any teeth for about 14 years. When I finally delivered that complete denture, I gave him a mirror, and he started crying." Diangkinay remembers. "That's when I figured out that this is what dentistry is all about. It's helping people, and it really fills your heart."
After dental school, Diangkinay practiced dentistry in the Philippines for about six months before beginning his planned move back to the States.
Right Back Where He Started From
When it came time to select a program to get an American dental license, Diangkinay looked no further than his backyard, signing up for a Fight On! Friday session for more information about Ostrow's Advanced Standing Program for International Dentists [ASPID].
"Being in the USC setting, I was just like 'Wow, this place is really nice!'" Diangkinay says. "I was just like, 'Alright, I'm going to try to get in here no matter what.'"
Diangkinay officially joined the Trojan Dental Family in April 2019 and began forging lasting relationships with his colleagues during their early days in the Sim Lab.
"It felt like a family because we were all coming from different countries," he says. "We, 36 ASPIDs, were a very close-knit group of people, working together in that Sim Lab."
Diangkinay is currently the vice-president of his ASPID class. He has made the Dean's List a couple of times during his time at USC.
It's still the patient interactions he has everyday, though, that drive him.
"Even though it's just people coming in to get their teeth cleaned or having a treatment done, it's more than that because you start building relationships," he says. "You get to know your patients a lot better, and they, in turn, trust you more."
Looking ahead to the next chapter of his life, Diangkinay — who mentions he's basically gone to dental school twice now — is ready to begin making money.
"I want to help my mom and dad go into retirement smoothly," he says. "They sacrificed so much for me and my sister, so I want to show them through my work how much I love them and appreciate everything they've done."
Posted 5/12/2021
Never Too Late
Allison Dietze's work in a number of industries had left her feeling unfulfilled — until she set her sights on a career in dentistry.
BY JOHN HOBBS MA '14
IT WAS JUST ANOTHER MORNING. Allison Dietze DDS '21 was getting ready for a job she didn't enjoy when she experience a sudden epiphany: She wanted to changed directions entirely and pursue a dental career.
It wasn't a completely capricious decision, given the soon-to-be-graduate's career path that has wended its way through the industries of fashion design, hairstyling, cosmetics, public relations and marketing.
"I realized out of all the professions I had tried, my favorite aspects of them involved working with my hands, creative problem solving, working with people and being challenged," Dietze says. "I put all that together with my lifelong love of going to the dentist and began considering becoming a dental assistant or hygienist."
A Renaissance Woman
Dietze began her undergraduate studies at San Francisco State University, with an undeclared major.
Although Dietze had always fared well academically in high school, she found herself paralyzed by career indecision during college.
Floundering, she left college behind and began working full-time at a small clothing design shop in the Bay Area.
"I loved it because it was a really fun challenge, and I worked with some amazing people," she says. "Over time, though, I realized it wasn't something I wanted to do long-term."
After four years, Dietze moved on to the cosmetology industry, working receptionist and stylist-assistant jobs at several hair salons and picking up work as a make-up artist with Estée Lauder to help make ends meet.
Though these career paths would ultimately lead to dead ends for Dietze, they were helpful in getting her to come out of her shell.
"I had been fairly shy and not comfortable making conversations with new people," she explains. "But this isn't an option at salons, so learning to comfortably converse with a diverse array of people about anything and everything was an invaluable skill I picked up during this time that directly helps me with patient care now."
Eventually, Dietze earned that bachelor's degree from San Francisco State before moving to New York City, where she returned to the familiar (fashion design), while interning with a public relations and marketing company during Fashion Week.
In 2009, she took a full-time position with a PR company that worked in the fashion, jewelry and interior design industries.
"It was such an amazing experience in that I was able to travel for Fashion Weeks; I worked with interesting, creative clients; and it was probably the most professional environment I had ever worked in, which provided me with a variety of skills," Dietze says.
Dentistry's Calling
Despite the glitz and glamor of Fashion Week, Dietze still found herself unfulfilled. It was at this time that she had her early-morning dental epiphany.
She began researching what it would take to make it into dental school, learning about pre-health post-baccalaureate programs at New York University and Stony Brook University for arts students who want to change paths and go into healthcare.
Having applied to both program, Dietze began to bone up on basic math and science classes at a community college on Manhattan. 
"This was great because it was a way to get myself used to being back in school and test myself to see if I was actually up for the challenge," Dietze says. "It turns out I loved being back in school."
Shortly after, Dietze was accepted into the Stony Brook University program, where she completed all the prerequisites necessary to get into Ostrow's DDS program.
Dietze officially joined the Trojan Dental Family in 2017, putting on her white coat and taking her solemn oath as an oral healthcare professional with the Class of 2021. 
While at USC, she has made the Dean's List nearly every trimester; served in a leadership position with Ayuda, a community service organization; and earned the Edna Hatcher Hughes Scholarship and the Charles L. Pincus Memorial Esthetic Dentistry Award.
Right after graduation, Dietze plans to complete a general practice residency at the University of California-Los Angeles. 
"I can't wait to continue my dental education," she says, "and gain more experience and confidence working with advanced cases and medically compromised patients."
Looking back on her serpentine career path that sidewinds nearly as much as her hometown's Lombard Street, Dietze admits it's not been the most conventional, but it's taught her so much. 
"While there are times I wish I had found dentistry when I was younger, I also really value all the experiences I've had," she says. "I think it makes me more well-rounded, and each experience has either taught me something I can use in my future dental career or somehow led to it." 
Posted 5/11/2021
Breaking the Mold
As an adolescent, Levi Powell didn't often see people like him in healthcare. Now, he hopes to be set the example for other underrepresented minorities to know they can do anything they want.
LEVI POWELL FIRST FELL IN LOVE with dentistry as a sixth grader under the treatment of a Black orthodontist — Levi's first encounter with a healthcare professional who actually looked like him.
"Seeing him operate with his office staff, seeing how happy he was and how he had the ability to change people's lives in the sense that they come in with no smile or really crooked teeth or not having a lot of self-confidence and being able to shift that around for them, I thought that was really impactful," says Powell, the son of a Black firefighter and an Asian accountant.
After that, Powell set out to become the first person in his family to pursue an education in healthcare, earning his bachelor's degree in dental hygiene from USC in 2015.
A Love For Teaching
The summer after graduation, as is customary, Powell and his fellow dental hygiene graduates taught the periodontics module to second-year DDS students — an experience Powell cherished.
"I asked Professor [Diane] Melrose if I could be faculty for the incoming dental hygiene class starting in August," Powell says. "She said, 'Levi, you definitely weren't on our radar, but we got a lot of good feedback about how you were teaching the sophomore perio module. A lot of the students really liked you as an instructor.'"
So, for a year, Powell juggled his duties as a dental hygiene instructor at Ostrow while working locally as a dental hygienist.
"I'm making really good money as a hygienist. I'm teaching at the university that was once my dream school. I'm living in my Culver City apartment, which is super nice and minutes to the beach," Powell says.
A Larger Calling
It could have been easy to settle into that lifestyle, but Powell realized he wanted to do more after an international service trip to Guatemala.
Feeling limited in the ways in which he could help the patients, who were in pain and needed extractions or restorations, Powell set his sights on a DDS degree.
"There was no way I couldn't go back and pursue this education because I didn't want to be throttled in my ability to help other people," he says. "I didn't want to be limited in the capacity and skills that I have to be able to serve other people."
Powell moved back home (Oakland, Calif.) and spent three months studying for his Dental Admission Test.
The weight of the world was lifted from his shoulders once he passed the DAT.
"I called my little brother, and it was probably the first moment in my entire life that I ever felt proud of myself," Powell says. "I was like 'I'm going to do it. I'm going to get into dental school. I'm going to make this dream a reality.'"
Nothing's Impossible
In 2017, Powell became the first in his family to begin a doctoral program, putting on his white coat with his classmates, right back at his dream school.
While at dental school, Powell served as a student ambassador, a Dental Humanitarian Outreach Project board member and as the vice president of the Dental Anesthesiology Club. He made the Dean's List twice and was most recently awarded the Senior Award for Excellence in Periodontology.
More importantly, he has had opportunities to make many more international service trips, treating patients with the Dental Humanitarian Outreach Project.
On a trip to Nicaragua, he remembers providing treatment to a young boy, who needed a couple of extractions as a result of an abscess.
"When we sat him down, he was terrified. He was kicking and screaming the whole time. It was a very difficult appointment," Powell says. "I felt bad about it because obviously we don't want to inflict any pain, but we do want to remove the pain stimulus and not cause him to have issues for years."
Worried that the boy would only associate dentistry with pain, Powell was surprised when he returned the next day.
"He pulled on my scrubs while I was working with another patient. And we made up a handshake and were hanging out for another 10-15 minutes," he says. "It was really cool to see that, even though we didn't speak the language, the impact we had with DHOP transcended the language barrier."
As Powell looks ahead to life after dental school, he aims to continue the tradition of annual service trips. He also hopes to use his own experience to inspire other underrepresented minorities to pursue careers in healthcare.
"When I was an adolescent, I used to think small and be intimidated by breaking the mold. I thought 'Oh, I'm not going to be a doctor — my dad, my mom, my cousins, none of them did that,'" he says. "As I started to step in this space that is USC and find success, I think I really started to understand that it's not as impossible as I made it out to be before."
Posted 5/10/2021